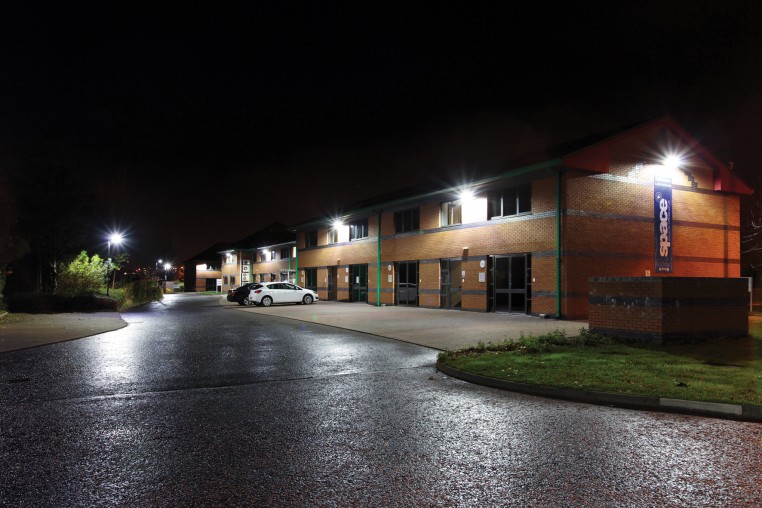 North East Business Centre make the change to LED.
Washington-based lighting firm, Glowled Ltd, has completed a £46,000 project to design and install an energy-efficient floodlighting scheme for the North East Business and Innovation Centre (BIC) in Sunderland.

The BIC, working closely with one of its tenants – Enviro UK – chose Glowled Ltd.'s LED floodlights to significantly slash its energy consumption and costs while improving light levels across the 14-acre site. The upgrade is expected to save the centre at least £10,000 a year and its annual energy consumption for its external lighting will drop from a massive 97,232 to 6,642 kilowatt hours.
Arzhang Tahmosybayat, of Glowled Ltd, said: "We replaced the BIC's external lighting fittings with a site-wide design using over 80 modular LED floodlights to increase the levels and quality of light. The LED light emitted from the floodlights can be shaped and focused in a specific direction, whereas traditional lights spill out light in all directions, reducing their efficiency." The new system will increase light levels, ensuring greater visibility in the outside environment for the centre's staff, tenant companies and visitors. Glowled Ltd also spent time with the SEP CCTV operators who look after the security of the site. They looked at the site's visibility at night and incorporated this information into their choice of floodlight for each phase on the site.
Director of Operations at the BIC, David Howell, said: "We were keen that the new system was up and running in time for the dark winter months and we are delighted with the results. "The environment is very important to us and as such we constantly look for solutions to reduce our energy consumption that are cost effective. Installing the LED lighting clearly demonstrates our commitment to this and to our clients. "We work closely with tenants to help them reduce waste and their carbon footprint and working with Glowled Ltd is another way of remaining a responsible business."
Previous
Next