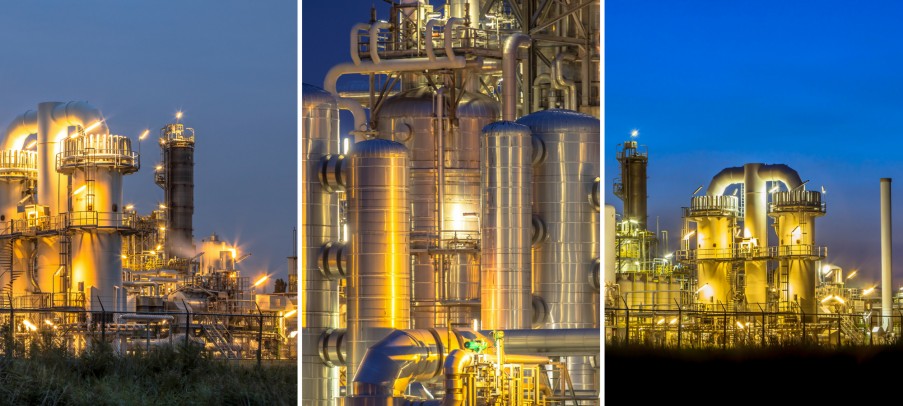 Making light work of hazardous areas
Blog

- Tue, Jun 19th, 2018
Lighting plays an integral part in ensuring the safety, efficiency, and productivity of any business and it's particularly important in facilities with hazardous areas. Here, we look at how LED lighting technology can support health and safety requirements in hazardous working areas.
What is a hazardous working area?
All workplaces present hazards and, as an employer, you have a legal duty to look after your employees' safety and put in place measures to protect them against health and safety hazards at work.
However, some workplaces present more hazardous environments than others. For example, those with an explosive atmosphere created by ignitable dusts, fibres, gases and vapours, or where working at heights or with heavy machinery is necessary.
Such conditions are often present in workplaces including: oil and gas rigs; shock blasting and coating large-scale fabrication facilities; chemical production facilities; flammable liquids storage facilities; fuel transportation, and so on.
As part of managing the health and safety of your business, you must control the risks in your workplace by considering what might cause harm to your employees and deciding whether you are taking reasonable steps to prevent that harm.
This is known as risk assessment and you are required by law to carry it out.
How can LED lighting technology help?
Improved visibility and safety. Poor lighting can increase the likelihood of injuries and even fatalities in the workplace. LED lighting technology will significantly reduce this risk by illuminating workplace hazards, highlighting emergency exit routes, and ensuring an overall safely-lit working environment. Similarly, lighting can be controlled to minimise glare therefore reducing the risk of poor lighting associated with eye strain and headaches for your workforce. Good lighting will also allow your workers to discriminate between colours; this is especially important for any electrical work.
Stay cool at all times. High quality LED lighting technology produces light at lower running temperatures than traditional light bulbs; this significantly reduces the risk of overheating and fires. LED lighting technology doesn't affect ambient temperatures, making it an excellent solution for use in temperature-controlled environments and workplaces using combustible substances where even a small spark could trigger an explosion.
Strong and reliable. LED lighting technology is tough and highly resistant to vibrations so can withstand a high threshold of rough treatment even when used repeatedly in demanding hazardous area conditions.
Connected and intelligent. A good lighting solution can be purpose-built for your specific requirements considering all hazards in the workplace. It can be monitored from a central point and provide you with up to date reports on how your energy is being used, ensure the lighting is used correctly in your facility, and can be integrated with any other safety systems you may have in place.
No matter the conditions you operate in, you can rely on the cutting-edge LED lighting solutions provided by Glowled. They are efficient, durable and provide reliable service even in harsh and hazardous environments.
If you've got a question relating to your lighting needs or would like to book a free survey or quotation, please contact rcallender@glowled.com.
Previous
Next